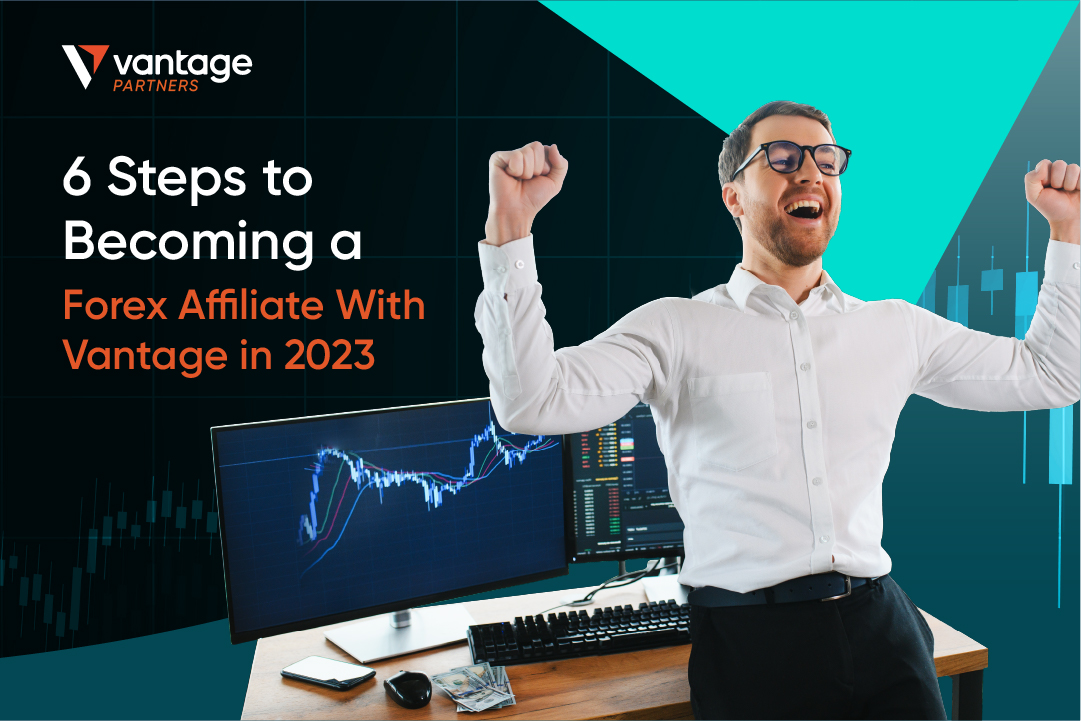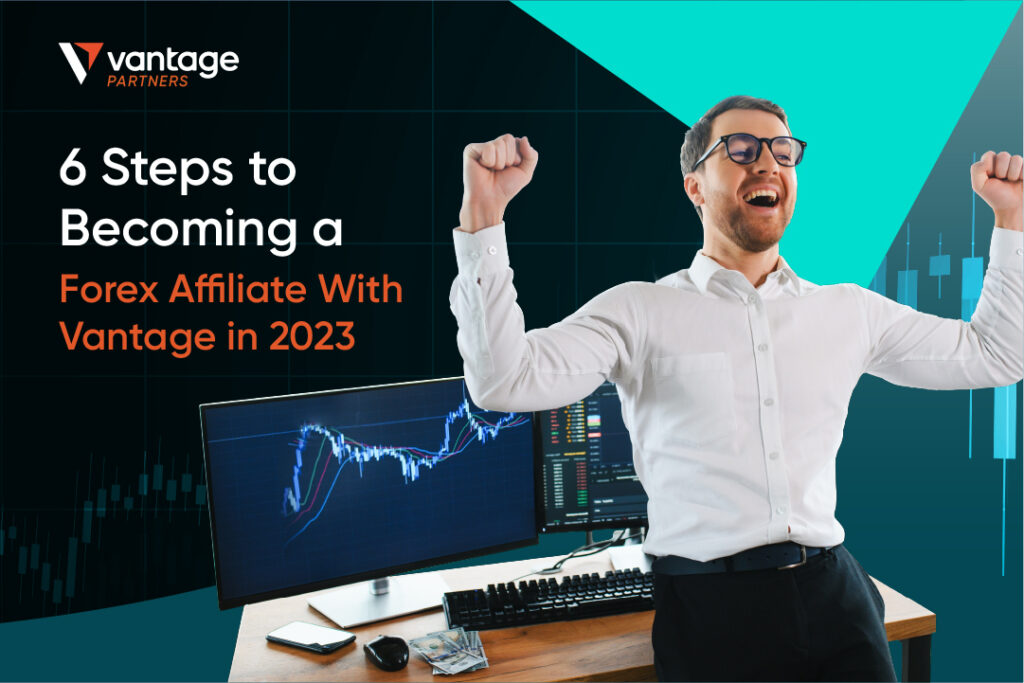 A forex affiliate's primary role is to promote the services of the forex brokerage to earn a commission based on qualified leads or sales. Forex brokers created such forex affiliate program to help promote and reward those that help advertise their services and products to new clients. If they have successfully brought in new users to join the partner broker's platform or gain new leads, they can earn a commission.
This article will guide you step-by-step, how to become a Vantage Forex Affiliate with the CPA Affiliate Program.
Vantage Forex Affiliate Program
Vantage is a global, multi-asset broker that offers clients access to a nimble and powerful service to trade CFDs on forex, commodities, indices, shares, and cryptocurrencies. Having been in the market for more than 10 years, Vantage is more than a broker; it is a trusted trading ecosystem that provides a fast and easy-to-use trading platform that enables clients to seize trading opportunities.
The Vantage CPA Affiliate Program is designed to help you derive earnings from every qualified client you refer. The program also aims to let you enjoy the benefit of a proper CPA management system.
Who Can Join as a Vantage CPA Forex Affiliate?
The program is best suited for those with a strong online presence, such as website owners, finance and trading comparison websites, trading educators, business influencers and social media influencers. However, this program is non-exclusive, and Vantage welcomes any online marketer with a substantial following to join our CPA program.  

Why Join Vantage Forex CPA Affiliate Program?
By joining Vantage CPA Affiliate Program, you are potentially entering one of the highest earning CPA programs in the world. You can earn up to $800 CPA from this program, making it a great option for digital marketers, social media influencers and SEO professionals. This program will help you unlock your earnings potential and grow with a reliable and trusted broker.
The Vantage Forex CPA Affiliate Program provides benefits such as: 
Never miss a dollar in potential earnings. The unique affiliate tracking links that are generated just for you on our platform will help monitor your conversion success. With the unique link, you can easily promote the campaigns in various ways that align with your website or platform.
By using Vantage state-of-the-art marketing platform, CellXpert, you are able to track all your earnings success with complete transparency. This platform allows you to serve ads, track click throughs and conversions, manage the performance of the campaigns, and view your earning reports.
As a Vantage affiliate, you will gain access to professionally designed, high-conversion marketing materials which include campaign visuals, banners, social media ads, promotional videos and more. Vantage will provide all these supporting materials to you.
Vantage has a dedicated client support team that is available 24 hours a day, 5 days a week to help with all your queries.
Requirements to Join Vantage Forex CPA Program
Here are some requirements to join the Vantage Forex CPA Program:
Registrant must not be a resident of a banned country, details of which can be found below.
Submission of a valid proof of identity and address for verification purposes.
Able to bring in a minimum of 5 active clients per month. If the minimum target is not met, the CPA affiliate will not be able to earn the commission.
Active clients refer to clients that meet the criteria as below:
Have a minimal deposit of $500
Have made 2 lots traded in Forex, Oil, Gold, BTCUSD & ETHUSD.
Become a Vantage Forex Affiliate in 6 Steps
Step 1: Visit Vantage Affiliate Partners Website
You can visit the Vantage Partner website to find the registration form for the Forex CPA Affiliates Program or click here. Click on the become a CPA Affiliate button on the website to be redirected to the registration form.
Here's a snapshot of the Vantage Partners website:


Step 2: Fill up the registration form
The registration form will require you to fill up your details, such as your first name, surname or company name, last name, email address, home address, city of residency, country of residence, postcode and phone number.
Here's what the Vantage Forex CPA Affiliate Program form looks like: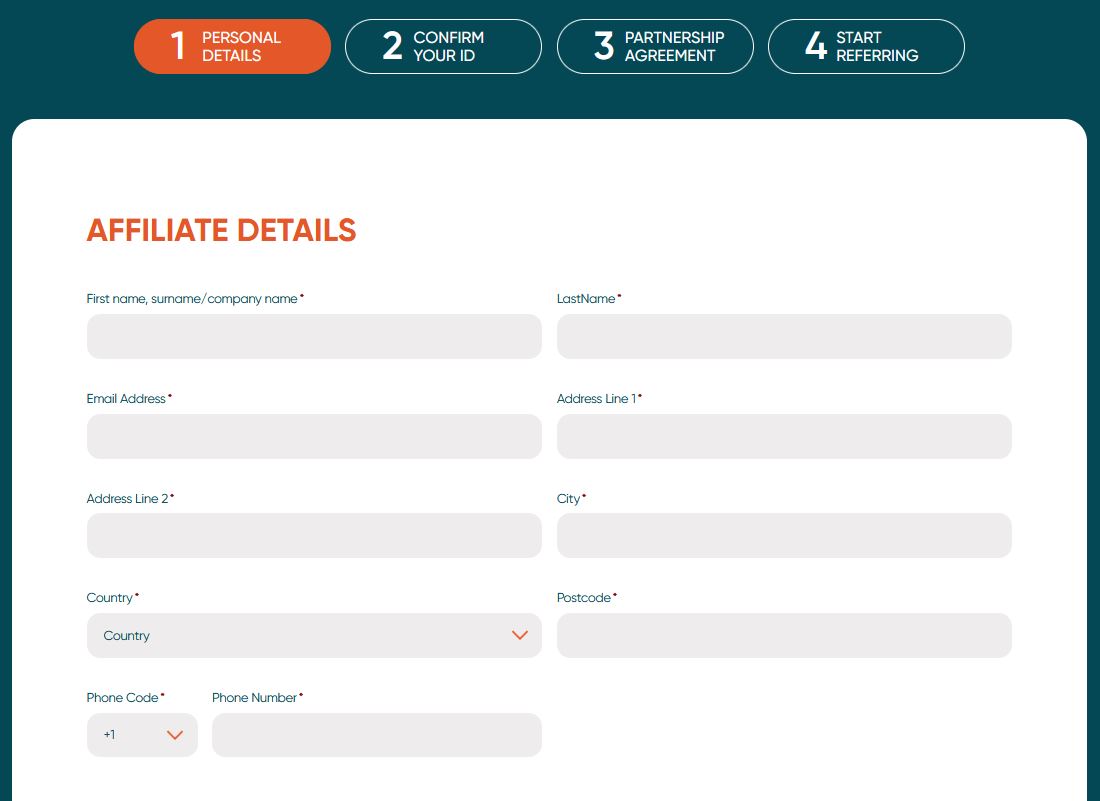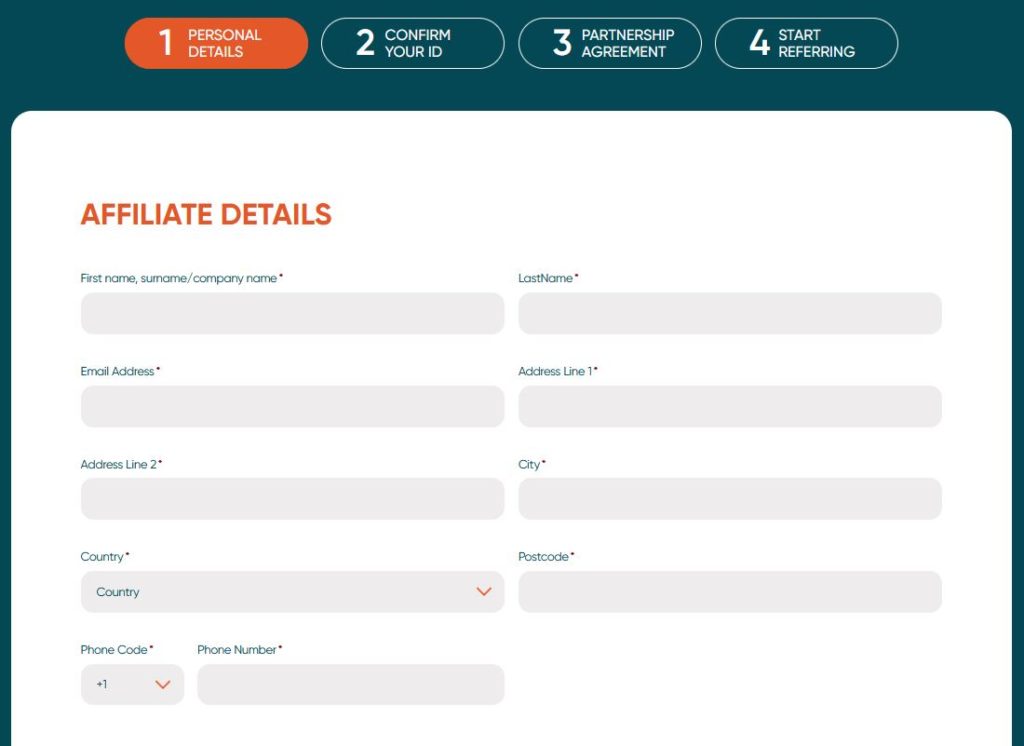 Once you have completed the personal details form, you can proceed to create your affiliate platform username and password. It's important to remember these details as they would be used to log in to your affiliate platform.
The additional questions are required to allow Vantage to understand you better as an affiliate and find your preferred contact method through Skype or Telegram. The country you are bringing in new clients from is important, as there are some countries that Vantage Partners are unable to accept due to regulatory restrictions.
Vantage Partners does not accept new clients referred from these countries: Afghanistan, American Samoa, Belarus, Burundi, Canada, Central African Republic, China, Cuba, Democratic Republic of Congo, Eritrea, Guam, Guinea, Guinea-Bissau, Haiti, Iran, Iraq, Lebanon, Liberia, Libya, Mali, Nicaragua, North Korea, Puerto Rico, Romania, Russian Federation, Singapore, Somalia, South Sudan, Sudan, Syria, Tunisia, Ukraine, United States, Venezuela, Virgin Islands (U.S.), Yemen, Zimbabwe. This list is subject to change from time to time at the Company's discretion.
Here's a snapshot of the additional information required: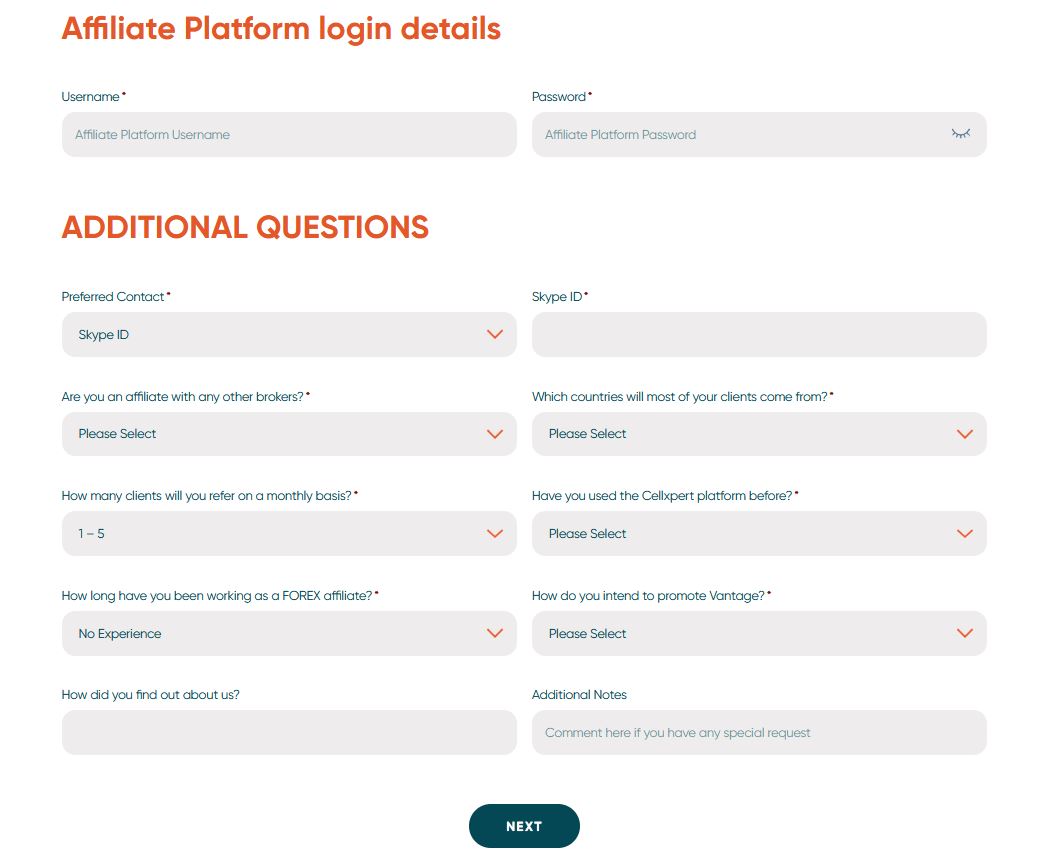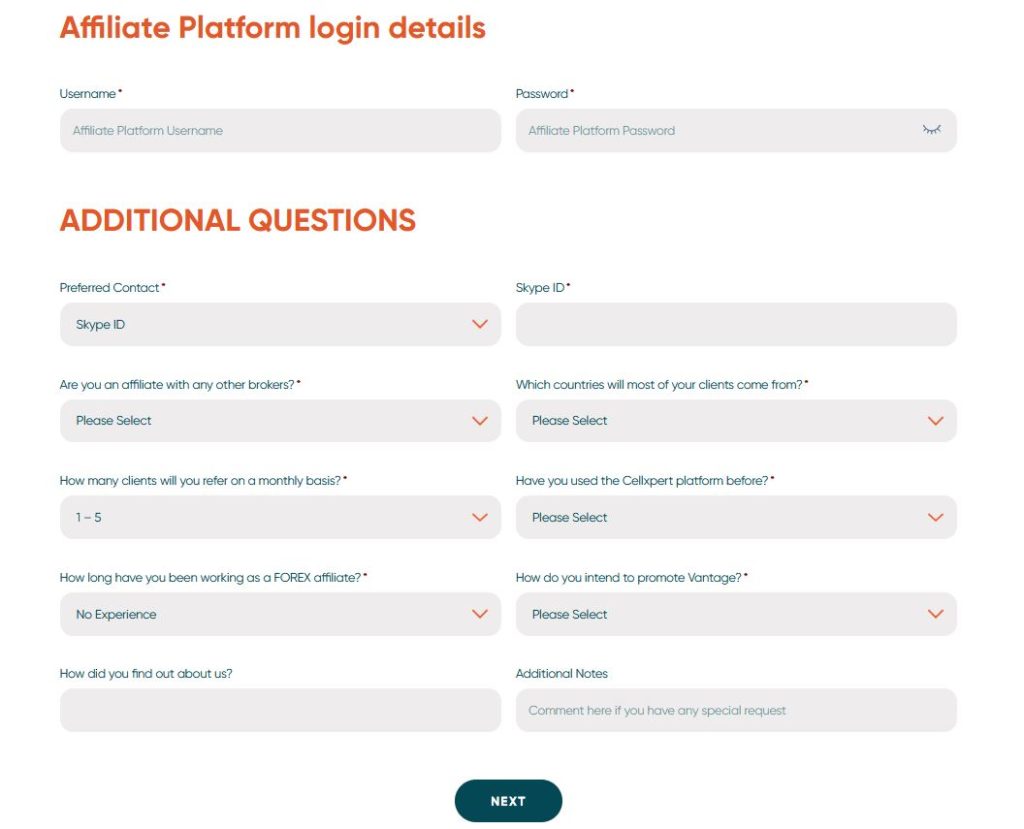 Step 3: Proof of Identification
For the following steps, you must upload a valid proof of identification and address for verification purposes. To confirm your identification, you can upload a copy of your passport, driver's licence (front and back) or National ID Card. To verify your proof of address, you can upload a copy of the utility bill or bank statement dated within three months.
Here's what the page will look like once you've filled in the form in Step 2.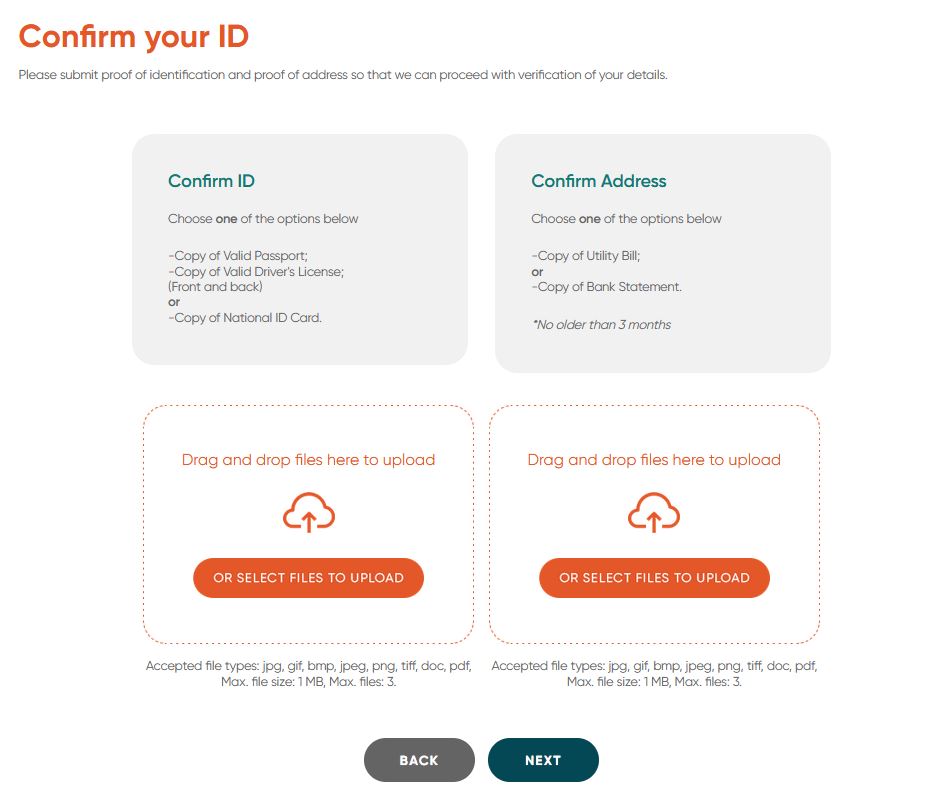 Step 4: Read the Partnership Agreement
After completing the proof of identification page, you will be brought to the partnership agreement. Read through the Affiliate Partnership Agreement and tick on the box if you agree to all the terms and conditions of this agreement and submit this form.
Step 5: Successful Application
Once you've completed and submitted all the important documents required by Vantage, your application will be reviewed. A designated account manager will contact you from one to three business days. In addition, an email will also be sent out to you to confirm your registration or interest in the Vantage Forex CPA Affiliate Program. Once the account is approved, you will receive a confirmation email regarding your activated affiliate account.
Here's what the confirmation page will look like once you've completed the registration process: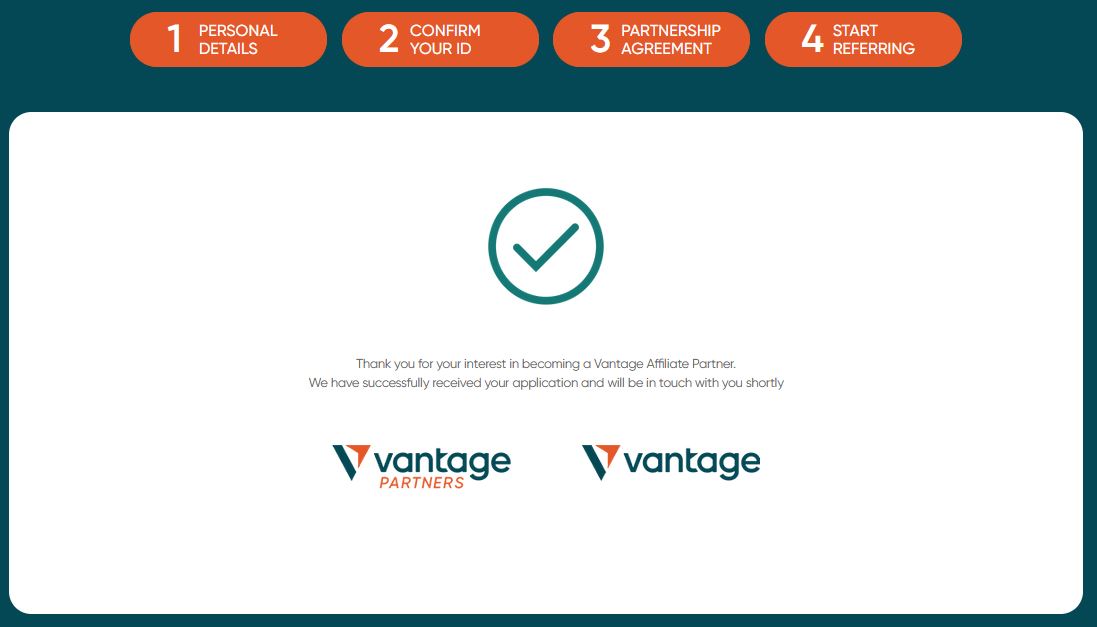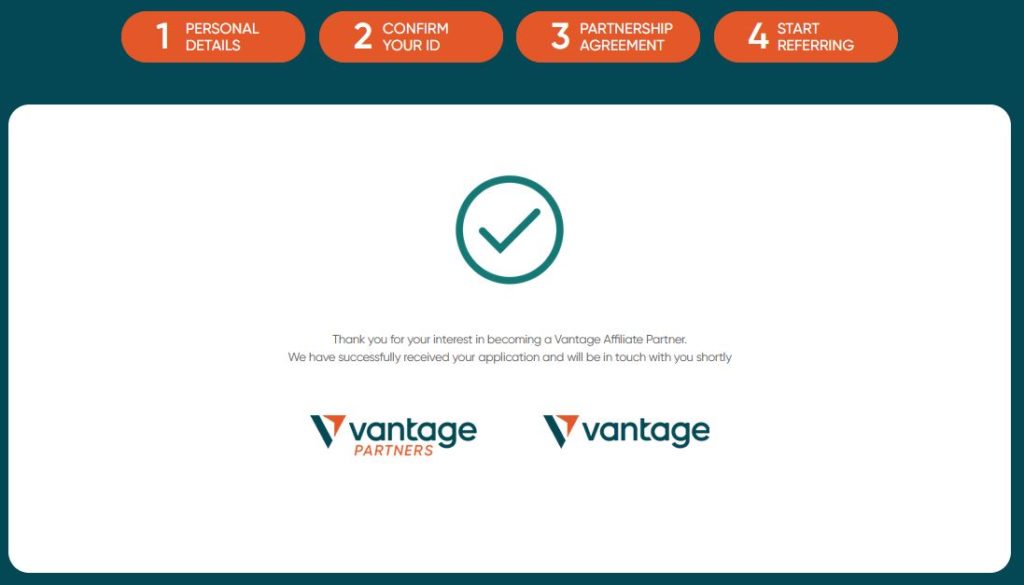 Step 6: Log in to CellXpert and begin referring clients
You can start to refer new clients and share the marketing materials that carry your unique affiliate ID with your audiences. In the reports section of the CellXpert, you can monitor all your referrals, commissions and track your performance.
If you have any issues during the registration process, you can send an email to [email protected] and Vantage affiliate manager will get in touch from 1 to 3 business days.
Start Promoting Vantage Forex CPA Affiliate Program
Achieving business growth and success as a CPA affiliate is all about the ability to draw in a greater number of clients while promoting the Forex CPA Forex affiliate program. Here are some ways for you to become a successful CPA affiliate while leveraging on the credibility and reputation of the program.
Familiarise yourself with Vantage
Having a thorough understanding of Vantage's Forex CPA affiliate program and services can help you promote it effectively. By familiarising yourself with the program's features such as benefits, trading platforms and customer support, you will be able to create content that resonates with your audience. If you have any enquiries regarding your account, you can reach out to your dedicated account manager for assistance.
Establish your online presence
Be active on multiple platforms such as your own website, forums, or social media platforms dedicated to forex trading or finance. Regularly publish educational and relevant content that will engage your audience. Not sure what kind of content to create?
Head over to our blog to read the latest articles and follow our social media for industry insights that will ensure up-to-date and informative content that will keep your audience engaged.
Leverage email marketing campaigns
Encourage your website visitors to subscribe to your email list by offering valuable incentives such as exclusive content, free resources, or special promotions related to the affiliate products or services you are promoting. Focus on delivering high-quality content like informative articles, tutorials, insights and industry updates.
Produce Quality Forex Content
It is vital to produce quality content as it strengthens your image as a knowledgeable and trustworthy authority in the forex industry. By consistently delivering valuable and accurate information, you build credibility with your audience, which can lead to increased trust and engagement. Visit our Vantage Academy for the latest news and industry insights on all things forex.
Key Takeaways for becoming a Vantage Forex Affiliate
Joining the Vantage Forex CPA Affiliate Program is simple with no signup fees. On top of being able to leverage on the reputation and credibility of a trusted broker, you will also have access to exclusive marketing and educational materials that can help you establish and solidify your presence in the affiliate industry – both online and offline.

If you are a digital marketer, social media influencer or a SEO professional with a large following, join the Vantage Forex CPA Affiliate Program and earn up to $800 CPA. Be part of a program that will help you unlock your earnings potential and growth.

Frequently Asked Questions About the Vantage CPA Affiliate Program
Why do you need a Skype ID or Telegram for registration?
This is for our Vantage affiliate managers to reach out to you.
Can I still register if I am an affiliate with another broker?
Yes, you are allowed to register for Vantage CPA Affiliate Program even if you're an affiliate with another broker.
Do I need to have a website to join Vantage CPA Affiliate Program?
Not necessarily. While having your own website is one way for you to promote as an affiliate, it is not the only way. Vantage will provide a selection of advertising material for you to promote through whichever online or even offline channel that is available to you.
Are there any rules or guidelines requirements to take note before promoting?
Partners are not allowed to use Vantage related keywords on google ads. Partners are also not allowed to copy the data or services of an existing partner of Vantage.
All the advertising should contain fair, bona fide, and non-misleading information. You should not make any promises, guarantees or suggestions for and on behalf of Vantage. You should not create unrealistic expectations. You should not make or use unwarranted statements. You are encouraged to provide balanced instead of absolute statements. You should use accurate and up-to-date information that can be verified with tangible evidence.
Partners are also required to include appropriate disclaimers to warn your audiences of the risks associated with trading derivatives. You should always refer to the terms and conditions associated with Vantage's products and offerings and be transparent about your relationship with Vantage.
For self-promotional material, it is important not to make promises of unreasonable profits, impersonating Vantage directly and giving unlicensed trading advice. You are encouraged to consult your account manager and obtain their approval for your material prior to publishing.
More information regarding the advertising guidelines can be found on the website by clicking here or on the Terms and Conditions at the website.