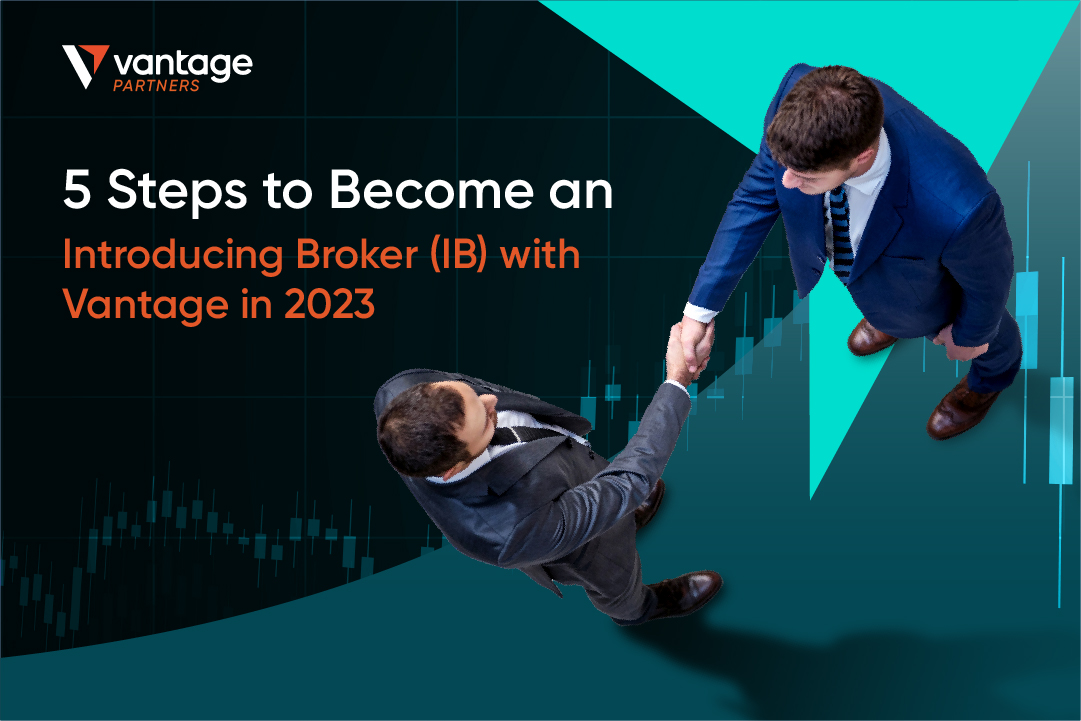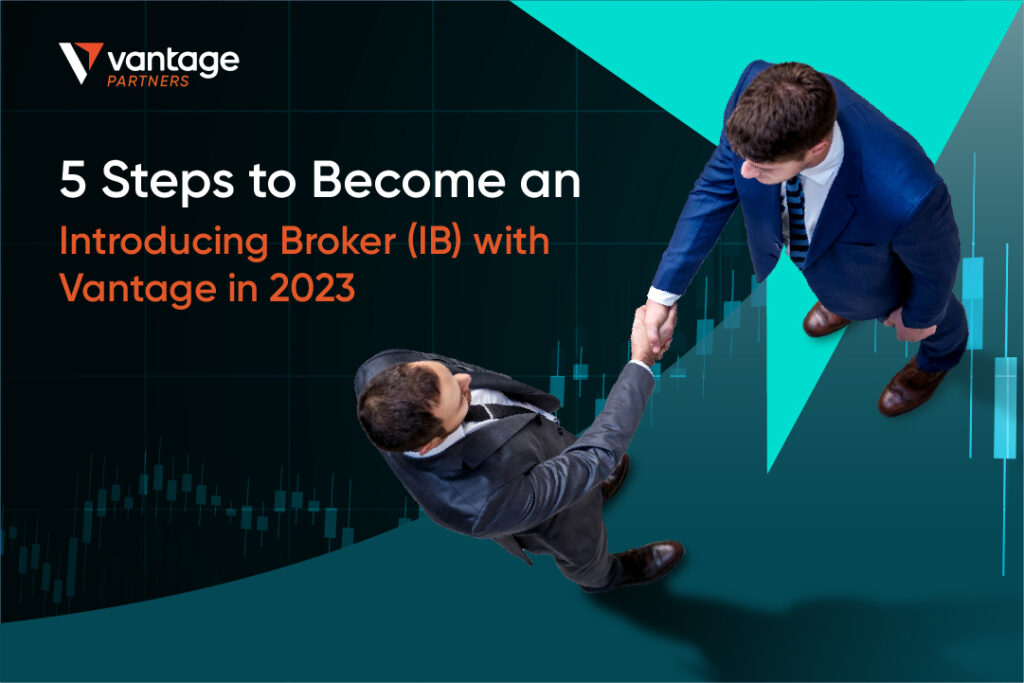 What are Introducing Broker 
Introducing Brokers (IB) act as the middleperson between a broker and a client. The IB's primary goal is getting new clients to sign up for the broker platform they are promoting. In return, they would be able to earn a commission based on the trades executed by the trader they referred to the broker. Different broker platforms will offer different types of commission payout rates and trading requirements. Prior to joining an IB program, it is important for you to find one that you are interested in and can work to your advantage.
Apart from just referring new traders to join the broker platform, IBs also support their clients (traders/referrals) by providing consultations and answers to their queries. In addition, they can provide trading education or marketing support to their clients, as having them continue to trade for the long-term will work in favour of the IBs.
This article will guide you step-by-step, to become an Introducing Broker with Vantage — a leading multi-asset broker.
Vantage Introducing Broker (IB) Program
Vantage is a CFD broker that serves institutional and retail clients worldwide. The company was founded in 2009 by a highly specialised team with backgrounds in finance, forex, and technology, aspiring to help clients pursue their financial goals and offer transparent access to the forex market through powerful trading platforms (MT4, MT5 and Vantage Mobile App). The company also provides exceptional execution speed and is known for its award-winning customer service.
The Vantage IB program is designed to offer individuals and corporate clients an opportunity to earn ongoing revenue from their clients' trading activities. Vantage values the business brought in by the IBs with some of the best rewards in the industry.
IBs under the Vantage program have the potential to leverage on the strong global brand reputation, award-winning customer service and transparent IB reporting on the platform.

Why join Vantage Introducing Broker (IB) Program
Vantage is one of the most extensive and rewarding partnership programs in the forex industry. The program offers a growing monthly rebate to an expansive network of successful IBs across the globe. Vantage is also striving to upgrade all its offerings through continuous technological and marketing improvements. Vantage welcomes constructive feedback and is committed to refine its services by listening to the feedbacks of its partners.
By joining Vantage, you are entering one of the fastest-growing IB programs in the industry, alongside 20,000 active affiliates and IBs. Vantage sees over $200 billion in monthly traded volume from our clients, and over $5,000,000 in commissions have been paid out monthly.
By partnering with Vantage, you can access the market-leading support of a recognised and trusted brand that provides generous rebates and outstanding customer service. In addition, all IBs will gain total visibility on their accounts with customisable reporting that enables them to track their rebates in real-time and view detailed information about their client's trading activity.
Requirements to Join Vantage Introducing Broker (IB) Program
Here are few requirements to join the Vantage Introducing Broker Program:
Registrant must not be from a banned country (listed in the section below)
A minimum of 1-3 years of trading experience is highly recommended but not compulsory
Acceptance of Introducing Broker structure offered by a Vantage affiliate manager
Steps to join the Vantage Introducing Broker (IB) Program
Step 1: Register on the Vantage Partners Website
Go to the Vantage Partners website and fill in the Vantage Introducing Broker registration form. The link to the form can be found here. You are required to fill up your details like your full name, email address, country of origin, phone code and phone number. The country of residency is essential, as Vantage Partners does not accept IB applications from certain countries.
Vantage does not accept IB applications from these countries: Afghanistan, American Samoa, Belarus, Burundi, Canada, Central African Republic, China, Cuba, Democratic Republic of Congo, Eritrea, Guam, Guinea, Guinea-Bissau, Haiti, Iran, Iraq, Lebanon, Liberia, Libya, Mali, Nicaragua, North Korea, Puerto Rico, Romania, Russia, Singapore, Somalia, South Sudan, Sudan, Syria, Tunisia, Ukraine, United States, Venezuela, Virgin Islands (U.S.), Yemen, Zimbabwe. This list is subject to change at the Company's discretion.
Here's what the Vantage Introducing Broker form looks like: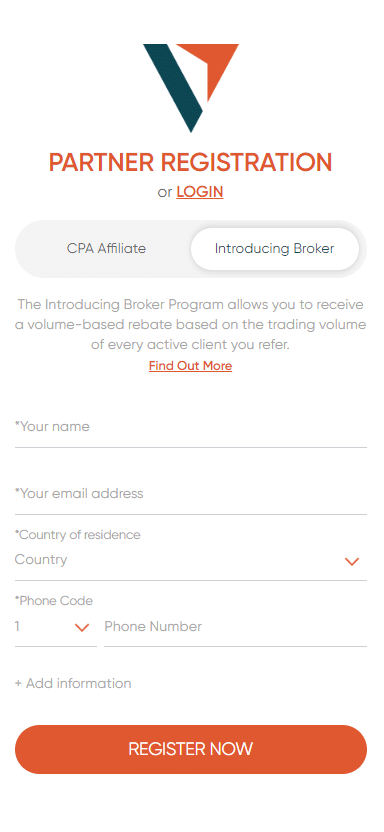 A confirmation email will also be sent to you once you've completed the IB registration.
Step 2: Wait for the account manager to connect with you
A designated account manager will be in touch with you in one to two business days, excluding the weekend. An email confirmation will also be sent to your registered email to confirm your interest in the Introducing Broker (IB) Program.
Step 3: Account Verification
To complete the account verification process, you are required to submit a few important documents including a proof of identity and address. This process is mandatory as it is legally required to verify your identity when opening an account with Vantage.
Please ensure you have your Live Account ready prior to applying to be an IB or you can simply open a Live Account here.
This is required to allow you to manage your trading activities and keep track of your referrals once you successfully become an IB with Vantage. Once your account has been verified, your account manager will get in touch to finalise your IB agreement.
Step 4: Account Confirmation
Vantage will send an email to you once your IB account has been activated. You can log in to your IB portal where it allows you to find all the important details such as your client's trading activities, total earned commission, and available balance for withdrawals.
Here's a snapshot of what your dashboard will look like on the Vantage IB portal.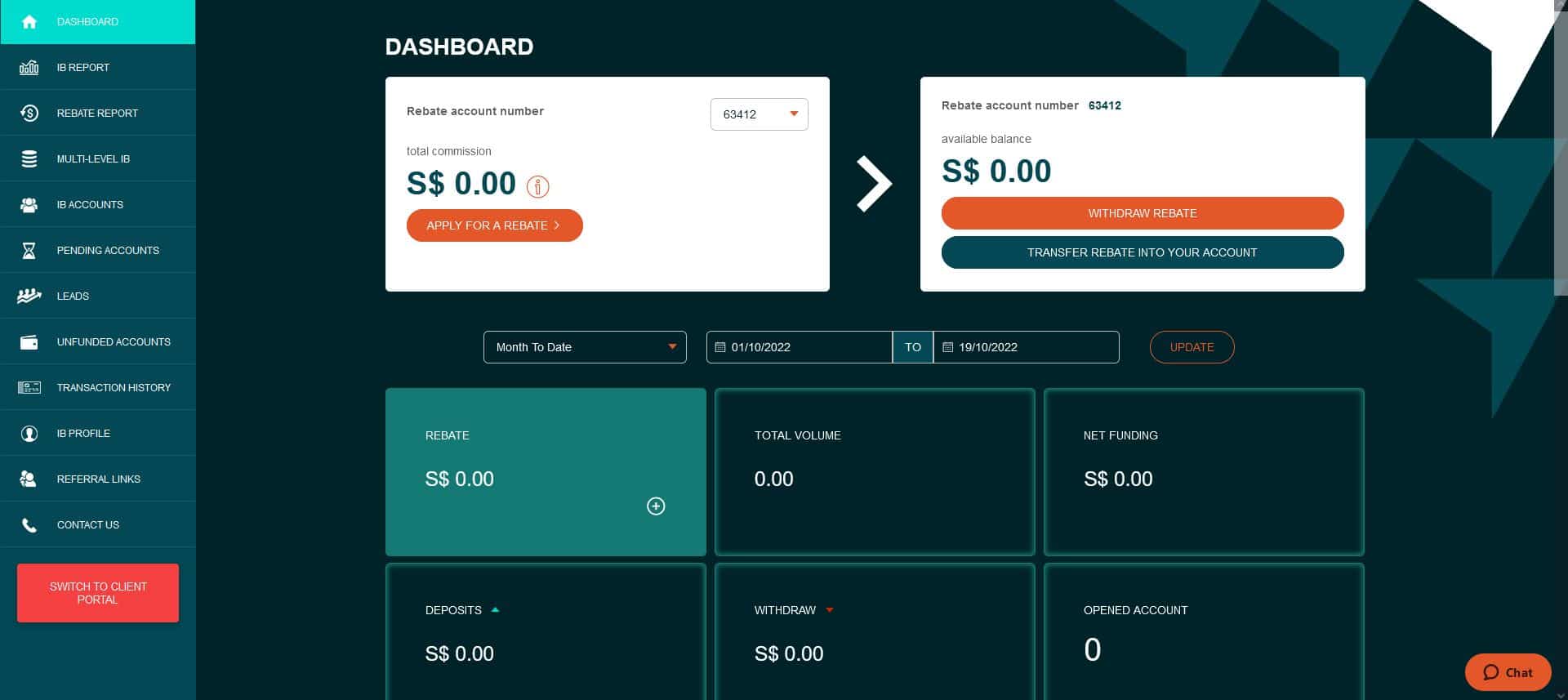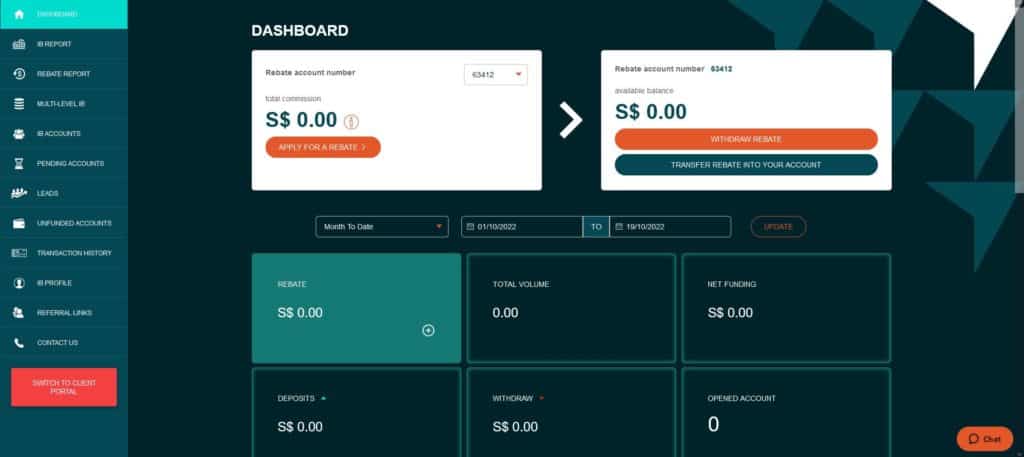 Step 5:  Begin sharing your referral links
All the referral links can be found from the side toolbar in the IB Portal. The links can be generated here, and it will be unique just for you. With the links all ready, you can easily share them across to your clients.
The Vantage platform also provides a feature to help shorten the link which protects your shared link from being altered by others. The campaign language can also be changed to cater to the audience you intend to reach out to.
If you face any problems and need further assistance with your referral link, you can always consult with your Account Manager to get it resolved.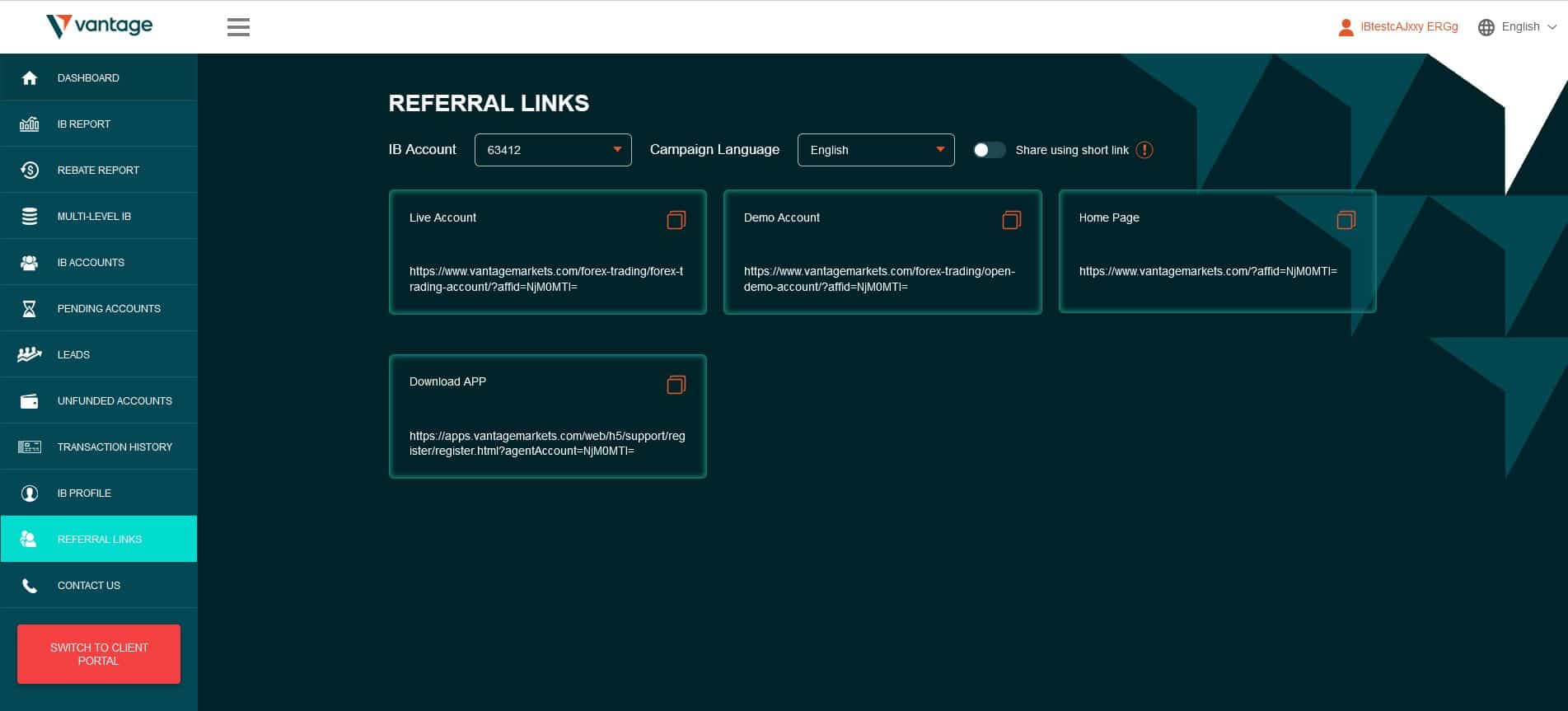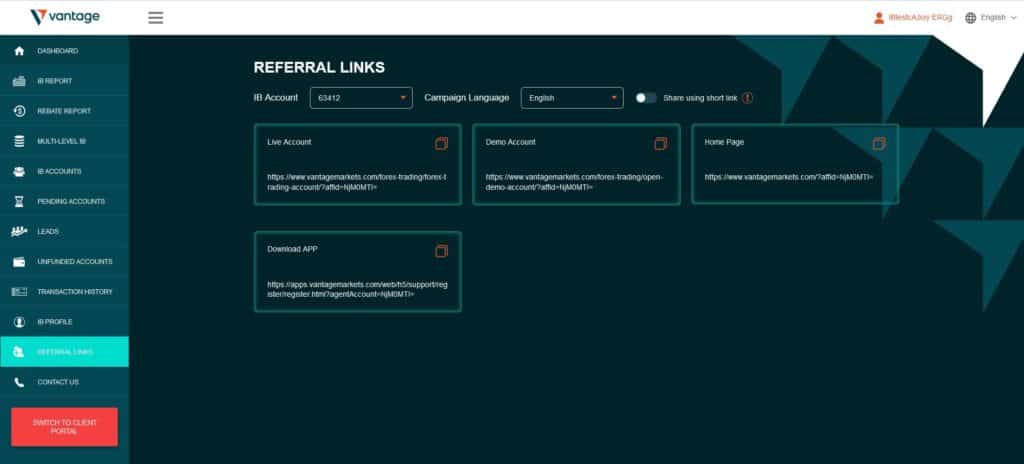 Frequently Asked Questions About the Vantage Introducing Broker (IB) Program
1. Why do you need a Skype ID for registration?
This is for our Vantage affiliate managers to reach out to you.
2. Can I still register if I am an Introducing Broker with another broker?
Yes, you are allowed to register for Vantage Introducing Broker (IB) Program even if you're an Introducing Broker with another broker.
3. Are there any rules or guidelines requirements to take note before promoting?
Partners are not allowed to use Vantage related keywords on google ads. Partners are also not allowed to copy the data or services of an existing partner of Vantage.
All the advertising guidelines are to use fair, clean and non-misleading information. Do not make any promises, guarantees or suggestions for and on behalf of Vantage. Do not create unrealistic expectations. Do not make or use unwarranted statements. Provide balanced statements but not absolute statements. Use accurate and up-to-date information that can be verified with tangible evidence. 
Partners are also required to include appropriate disclaimers to warn your audiences of the risks associated with trading. You should always refer to the terms and conditions associated with Vantage' bonuses and contests and be transparent about your relationship with Vantage. 
For self-promotional material, it is important to not make promises of unreasonable profits, impersonating Vantage directly and giving unlicensed trading advice. You are encouraged to consult your account manager and obtain their approval for your material if you are unsure.
More information regarding the advertising guidelines can be found on the website by clicking here.
Tips to Become A Successful Introducing Broker
Becoming a successful introducing broker requires more than just registering with a trading platform. Here are some tips to help you become a more successful IB:
Build a Strong and Credible Client Base
One of the most important steps is to build a client base that trusts and relies on you to succeed. It's not just about attracting as many potential clients as possible, but about finding the right clients who will benefit from, and be a good fit for your services.
One effective way to do this is by creating a strong online presence through your website and social media channels. This will help you showcase your strengths and build online credibility with any potential clients. By consistently putting out quality content and engaging with your audience, you can position yourself as a trusted figure in the industry, which could in turn help you succeed as an introducing broker.
Providing Value to Clients
Another key to success as an introducing broker is to make sure you are providing real value to your clients. This means staying up-to-date with the latest market trends and trading strategies and sharing this knowledge with your clients. By taking the time to educate your clients and help them make informed trading decisions, you will build stronger relationships with them and increase your chances of success.
Providing personalised support
One way to stand out as an introducing broker is by offering personalised assistance and guidance to your clients. By going the extra mile to ensure their success, you can establish a loyal client base that will stick with you for the long term.
Ready to take your Introducing Broker commissions to the next level? Check out our comprehensive article on IB commissions for more tips and strategies on how to boost your commission earnings potential. Additionally, check out our library of articles on marketing tips to enhance your online presence and attract more referrals.
Joining the Vantage Introducing Broker (IB) Program
Joining the Vantage IB program is simple. Register your interest on the Vantage website to get started or click here. An Account Manager will assist you step-by-step along your IB journey.